As most dental practices do, you too probably rely mostly on Internet to get new patients & market yourself, so your online image is really important. This is not only common sense, it's also backed by studies: according to a new survey conducted by Dimensional Research, a whopping 86% of respondents who recalled reading online reviews claimed that negative reviews influenced their buying decisions.
Probably there's nothing more important than having good reviews from patients. As with other businesses, once in a while, you get a bad review. However, there's no need to panic, as you have several options to deal with it.
Golden Rule
The Golden Rule of handling a negative review is this: if you can't react in a calm and professional manner, don't respond at all! How you respond is a reflection of your brand and can harm your image more than you know. Keep it cool and try to objectively analyse the review.
Investigate thoroughly
Start by researching everything you can about the reviewer: was he a truly patient of yours? Look on your lists and see if you can find their name. What kind of intervention he has been subjected to? Remember: information is king – the more you've got, the smoother you can resolve the issue.
Get on it ASAP!
If you find out the reviewer is an actual patient of yours, the best and fastest way to deal with a bad review is to contact him directly and try to fix his inconvenience in private. Leave your ego at the door: you're probably going to have to suck up your pride, but making a patient happy again is much better than a bad review hanging over your business's head for months/years.
Be honest and if it was really your fault, acknowledge it. It's hard, but is the first step on easing the tension.
Not your patient – fake review
You've made a thorough research and you're absolutely, positively sure it's a fake review and this person never stepped foot in your office. Start by flag the inappropriate review.
Flag it on your Desktop
Sign in to Google My Business.
If you have two or more listings, switch to card view and click Manage location for the
location you'd like to manage.
Click Reviews from the menu.
Find the review you'd like to flag, click the three dot menu, then click Flag as inappropriate.
Flag it using your Mobile
Open the Google My Business app.
Tap the menu Three dash menu, then tap Reviews.
Find the review you'd like to flag, tap the three dot menu, then tap Flag review.
Go straight to GMB Support
I know this is an urgent matter, but flagging the review and have it removed can take up to several days, so try to be patient. However, if the review wasn't removed using the flagging method, report it to Google Small Business Support.
Here are the steps to follow:
Log into your Google My Business (GMB) page.
Go to the Reviews section.
Click on the home menu and select Support.
Choose a method of Contact – Phone or Email.
Fill in the necessary contact parameters, Add a screenshot of the review in question, and wait patiently (you should hear back within 24-48 Hours).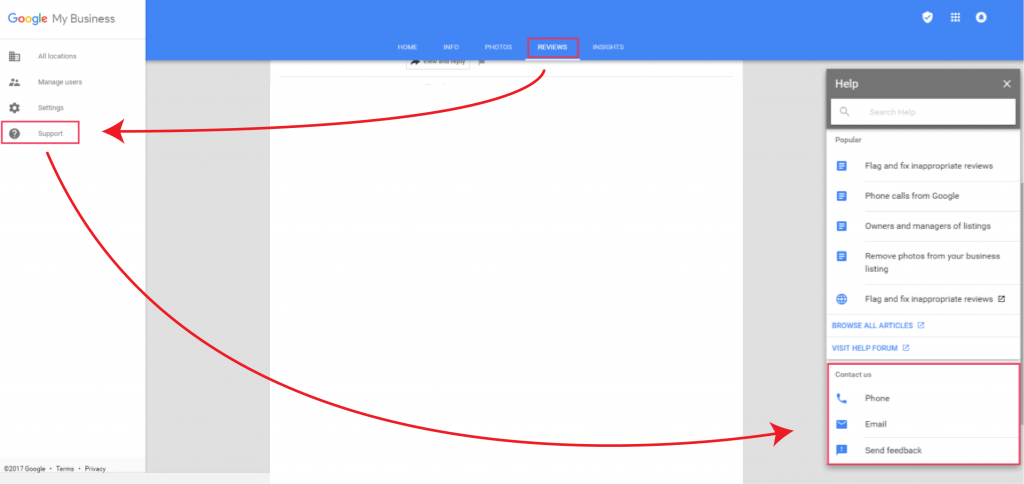 Is it the reviewer or you?
If this kind of bad review happened just once or a couple of times that's OK. On the other hand, if you've got several negative reviews, this is definitely a red flag! Maybe it's time to take a hard (and sincere) look at you and your practice! Put yourself in the shoes of your patients and try to see things from their point of view — what are you constantly doing wrong and even more important: why? If there is a pattern, try to make some changes, in you, your staff or the way your practice operates.
After doing this internal analysis you still think you're fair and the problem is on the reviewer's side, consider seriously going the extra mile in making things right. Don't see it as a cost, but as an investment in your future success and your ongoing reputation!
If they tarnish your dental practice's name online it can have a snowball effect and other potential patients searching for a local dentist will turn to competition. Therefore make sure to address anything that pisses off your patients and fix that thing RIGHT AWAY!
Treat each bad review individually
Nobody wants to get an automated, cold reply, especially when you are frustrated with the service received. So if you're going to cut and paste all your responses, you might as well not respond at all. Dissatisfied patients want to know they are important to you and take their concerns seriously. A flat response says you don't actually care, and you're just responding for the sake of optics. Responding authentically and as personal as possible means responding to the individual. It won't even take you as long as you think.
Turn a bad review into a great one
It's up to you in turning the 1 star review into a 4 or even 5 star review! If you take care of the issue in a professional, sincere and direct manner, in more cases than you think, the reviewer is willing to change its mind. Knowing they've been heard and you did everything you could to resolve their complaint will put them in a forgiving mood where they may seriously contemplate adjusting their original bad review.
Also, by using this approach you will reinforce the connection with the rest of your patients, showing you truly care.
A couple of negative reviews might be helpful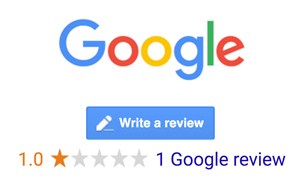 Of course no one advocates on getting bad reviews, but try to see things from a different perspective: when I come across a dentist with only positive reviews, my "BS meter" goes off a bit. Similar to searching for a book or product on Amazon. If you see only positive reviews, you smell something's fishy.
That's why, if your overall review profile has many positive reviews and only a small percentage of bad ones, then this simply won't damage you, in most cases. Often, other patients read the review and can tell straight away if the complainer is crazy or unreasonable.
Get more positive reviews and dilute the bad ones
This is particularly valuable for types of businesses that traditionally get fewer reviews online — such as doctors. If you have just a few reviews, a negative one can hurt you a lot. Go ahead and be as proactively as possible in asking for reviews of satisfied patients. This is as simple as it gets: more positive reviews strengthens your practice's image.
However don't try to enforce them by offering incentives, neither by asking staff to leave other fake reviews.
Ways to monitor reviews & discussions about your brand online
Manually searching for each mention of your dental practice is a really time consuming task, so you can go ahead and use an online tool. The one we recommend to use is Google Alerts. This is a free service provided by Google and since they are the best when it comes to crawling the Internet for information you can absolutely rely on it.
You can monitor only your name or go for a list of words and phrases. By leaving the default settings for receiving alerts, Google will notify you once a day. If you want, there's also the option to get alerts as-they-happen.