2014 was the year Google My Business (GMB) first rolled out with a simple mission: to help local businesses get discovered easier through search. Nowadays you simply don't exist if you don't create a Google my business page for your dental practice.
A constantly updated and well-maintained GMB listing is definitely a vital source of traffic and revenue for any dentist competing for location-specific keywords.
To understand just how important those local search results are, let's take an example: if you search for "dentist Manhattan", you first get 4 paid ads displayed, then a "three pack" of GMB local listings and only AFTER that you get the organic results. This is true for both desktop and mobile SERPs.
Since this is a free feature from Google and many dentist still don't realize its importance or how to register, this short guide on how to claim and optimize your GMB listing is here to help you.
1. First Things First: claim your business.
To do so Google needs to know you actually own that business and it will verify it. This verification protects you from any poser who might say he or she is a representative. Also it seems that verified businesses are twice as likely to be considered reputable by users.
Usually this verification means requesting it online, receiving a postcard from Google at your business address (in a few weeks, depending your location) and then, in order to confirm that your business is located at the listed address, you will have to enter the unique verification code that is inside the postcard into Google My Business.
Mind you, it could take anywhere from a few days to a few weeks for your business information to appear across Google, so patience is gold.
2. Add high quality images & your logo.
This is really important as Google states that businesses which listed photos receive 42% more requests for driving directions to their location and 35% more clicks through to their websites than businesses that don't have photos.
Google lets you add several types of photos to your listing: a profile photo, your logo, a cover photo and some additional photos that your patients might be interested of, such as images with your staff.
Best practices for these photos: JPG or PNG format; size between 10KB and 5MB; minimum resolution: 720px tall & 720px wide
3. NAPs
Fill in your practice's NAPs (Name, Address, Phone number) and make sure they are identical with those on your website & across all your online profiles, including Bing, Yelp and other relevant sites. If not, make the appropriate changes as you don't want patients or Google get confused.
4. Fill in the opening hours so patients know when they can reach you.
5. Add your website's URL.
6. Atributes
Google lets you add specific searchable qualities, or attributes, in order to help you better illustrate the unique characteristics of your dental office. Those attributes are determined by the business category and you have to choose them from a list.
How to improve & take advantage of your GMB listing
1. Google Posts
You can promote offers, news, events which will be displayed in the same "box" with your listing, right after your opening hours and phone number. You can use up to 1,500 words, but we recommend not to go above 150-300 words (only about 100 will be displayed in the snippet). Make sure to add a strong call to action and use high quality images. Currently the lifetime of a Google Post is a week, so keep that in mind when doing a promotion.
2. Activate GMB Messaging
Google lets businesses directly chat with customers who find their profile on the search results page, using SMS or their own messaging app, Allo. Try to always answer quickly to any questions and assist current and potential patients.
3. Engage in the review section
Take your time and respond to each review, showing that you actually care and take into consideration your patient's opinions.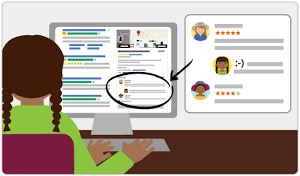 4. Have patients upload their own photos
Encourage visitors to upload photos of your dental office. Use any incentive you might think is appropriate to convince patients in doing so.
Conclusion
Make sure to update any changes that may occur along the way with Google My Business. Keeping your account up-to-date makes sure that Google has the most accurate information to share with potential customers. You are able to change: business hours, physical address (going through the whole verification process again), phone number and website address.
Delegate.
We know dentists have a lot going on so Google enables you to delegate responsibility to other members of your staff while keeping ownership of the page.
Besides you, the owner of the page, you can also add a manager and a communication manager. The manager can do almost the same things as the owner: edit information, manage Hangouts and view Insights. The communication manager can interact with patients on behalf of your listing by posting pictures and responding to reviews.